Running for a good cause: MSD donates 20,000 Swiss francs to UNICEF Switzerland and Liechtenstein generated at the UNICEF Extra Mile at today's Swiss City Marathon Lucerne
27.10.2019 08:00 Europe/Zurich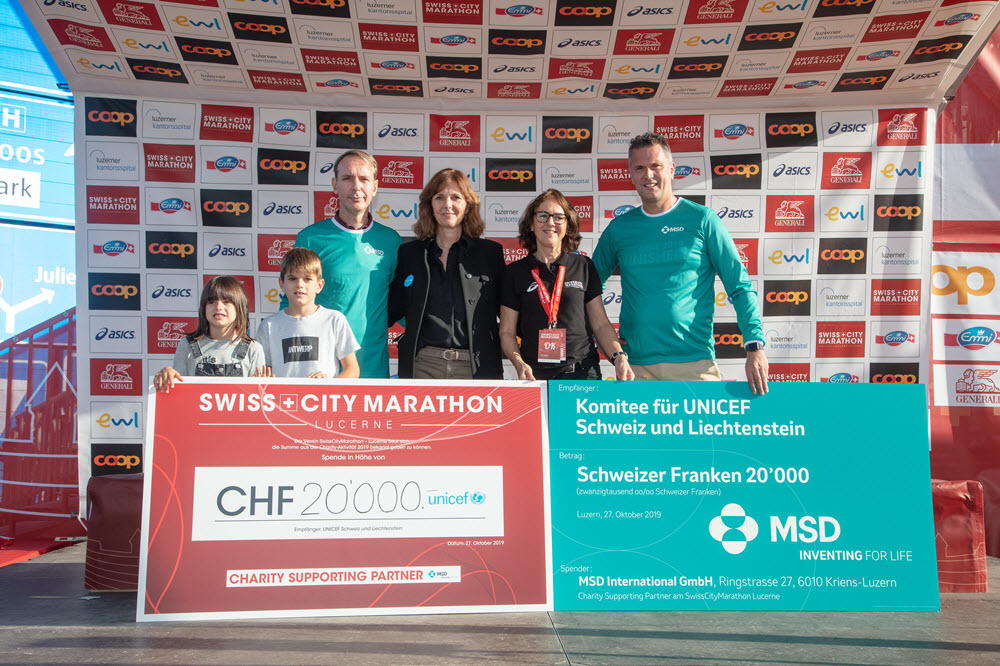 Lucerne, 27th October 2019: Being goal-oriented, ambitious and dedicated are decisive criteria in the sporting and entrepreneurial context. MSD supports UNICEF Switzerland and Liechtenstein, the charity partner at the Swiss City Marathon Lucerne. Runners who completed their official 10, 21 and 42 kilometer runs were motivated to also run the UNICEF Extra Mile for the benefit of children in Tajikistan.
The UNICEF program supports health centers and promotes access to clean water and sanitation, preventing the transmission of disease and improving care. In Tajikistan, the mortality rate for newborns is high: five times more babies die in the first 28 days than in Switzerland, more than 80 percent of them even in the first week of life. (Source: UNICEF)
Reducing maternal and neonatal mortality is one of the corporate responsibility goals that MSD is pursuing worldwide with the MSD for Mothers project and by pursuing the United Nations sustainability goal (UN Target 3.1) of Good Health & Wellbeing (SDG 3).
MSD Merck Sharp & Dohme AG has supported the Swiss City Marathon since 2011; since 2018 as Charity Supporting Partner.
About MSD in Switzerland:
1000 employees are working in national and international functions in Switzerland. The Human Medicine division is active in the areas of prescription drugs and biopharmaceuticals for therapies including oncology, diabetes, cardiovascular diseases, infectious diseases (including fungal infections, antibiotic resistance, HIV/Aids, and hepatitis C), immunology, women's health as well as in the area of vaccines for children, young people, and adults.
In Switzerland, MSD develops and analyses new biotechnological active ingredients, tests new drugs, conducts stability studies, coordinates and supplies test drugs for worldwide clinical trials during the development phases. MSD also plays an active role in engaging locally, supporting the health congress "Trendtage Gesundheit Luzern" and the popular "Swiss City Marathon Lucerne". In 2019, the company was certified as a "Top Employer Switzerland" for the seventh year in succession, as well as a "Top Employer Europe" for the fourth time.
About MSD worldwide:
MSD is a registered trademark of Merck & Co., Inc., Kenilworth, New Jersey, USA. MSD is a leading global biopharmaceutical company which has been engaged in life science research for more than a century, developing drugs and vaccines for the most challenging diseases worldwide, including cancer, cardiovascular diseases, Alzheimer's, and infectious diseases, such as HIV and Ebola.
For more information: www.msd.ch
Follow us on Twitter, LinkedIn und YouTube.
Press contact MSD Switzerland:
media.switzerland@merck.com | Tel. +41 (0) 58 618 30 30

Jean-Blaise Defago (Policy & Communications Director)
Liliane Elspass (Communications Lead)
© 2019 MSD Merck Sharp & Dohme AG, Werftestrasse 4, 6005 Lucerne. All rights reserved.
CH-CIN-000272, 10/2019