Our team
Things that count when parenting and working remotely during a pandemic
Stephanie Narain, Franchise Lead Lung, Business Unit Oncology at MSD Switzerland, shares her experiences and learnings of working from home as a mom and forging stronger connections with her colleagues despite the distance.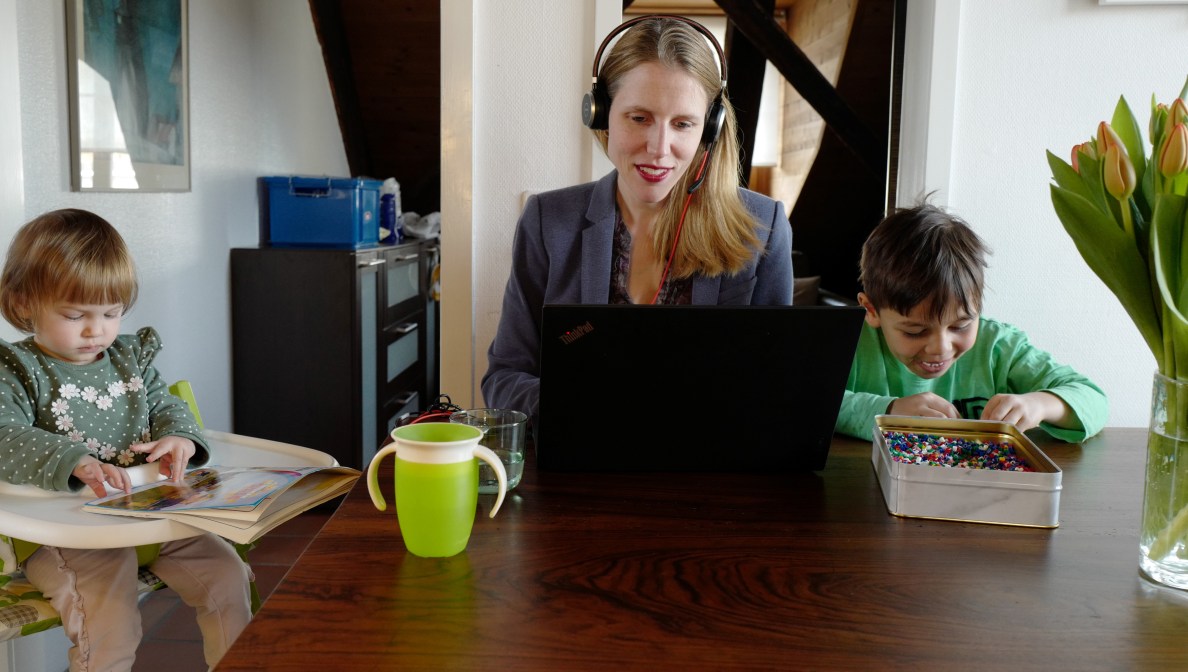 Three weeks after my maternity leave of my second child we were all forced into the first lockdown due to COVID-19 pandemic. Honestly, it was already a challenge to adjust back to working life – but then from one day to the other, day care was closed, the kids were at home with me and all of this while the pandemic turned the business upside-down.
When I now think back to March 2020, I always see my son stealing my head-set and playing pilot to his little sister. But it was not all fun. I wondered all the time: Do I work hard enough? Should I check my emails after I put the children to bed? Do they need me when there is an important call around lunchtime?
Being flexible and staying true to yourself
If there's anything that I've learned while working from home during the COVID-19 pandemic, it's to remain flexible and stay true to myself. Once I was called on a late Friday afternoon that they tested some positive COVID-19 cases at my son`s school. The entire family had to immediately undergo quarantine for the next 10 days – no fresh air episodes! Do you know what this means for a working mom with kids who need to run, climb and play football? We all knew that this experience will be a bit tough, but it was as well extremely nice to see how my team reacted when my son suddenly greeted them in the WebEx, showed them some of his paper airplanes or poke his tongue out at them! During this time I learned that knowing our teammates and sharing our troubles, we built trust and understanding. It was a nice experience to know each other at a deeper and more "true" level – who we are, what we're worried about and how we could help each other. After all, we're all in this together and we are all doing the best we can.
Virtually overnight we had to find new ways quickly
It wasn't just at home that everyone had to find a way to reconcile everything from week to week. The same applied to work. Virtually overnight, the entire team stopped working in the office. Appointments with clients, team meetings, coffee breaks… all those face to face meetings no longer existed. It was a new situation for each and every one of us. But, diseases like cancer don't stop at COVID-19, and all of us wanted to strive to help cancer patients at the same pace and continue to achieve our goals. We had to find a way quickly and we did. How could that work out?
Little things that matter to maintain our high performing team
It was not rocket-science but important and needed to reflect at: We committed on avoiding an entire day of WebExes. In an essence: No meetings during lunchtime, no meetings for one full hour, no meetings on Friday afternoon, and allowing walking meetings by phone in case no slides are needed. This was a relief for all of us, gave us time to work on projects and clean-up our brain to sharpen our sense. Further, we actively took the personal situation of our teammates into consideration eg if parents were occupied with homeschooling the children, we defined responsibilities and priorities in such a way that we could do the work as a team and still consider the individual family situations.


It is a great experience to see the little things that are necessary to bond us together as a team maintaining our high performance also in this particular situation. Overall, being more flexible, staying true to myself and focus on little things that matter allowed me to grow during pandemic – an experience I finally didn`t want to miss.
CH-NON-01147, 05/2021