Care
Survey on cancer care in Switzerland: Good ratings—But some work to do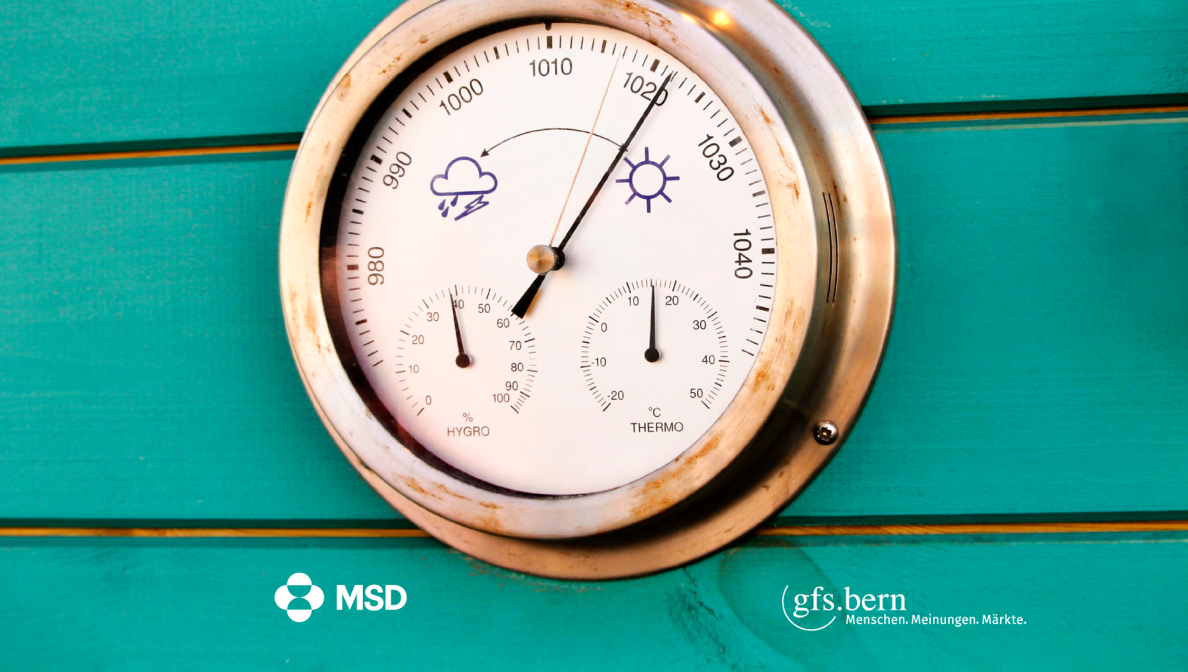 Cancers pose a major challenge not only for those affected but also for the health care system. MSD has worked with the research institute gfs.bern to create a representative survey, the first of its kind, to take a detailed look at public opinion regarding the quality of cancer care in Switzerland. The survey showed that there is clearly broad approval of the care currently being offered, but did, however, identify opportunities for improvement in pre- and post-treatment care.
According to the Swiss Federal Statistical Office (2021), there are more than 40,000 new cancer diagnoses in Switzerland each year, with one in five people falling ill with cancer before the age of 701. The good news: New cases do appear to be leveling off somewhat 1. Moreover, fewer people are dying from cancers than before1. Accordingly, there is an increasing number of people in Switzerland who are either living with cancer or have beaten it. They should all be receiving the best possible care. Apart from the actual medical treatment they receive, this care also includes preventive and follow-up care, as well as social and psychological support. A wide-ranging representative survey commissioned by MSD and conducted by gfs.bern aimed to find out how the Swiss public perceives the quality of cancer care.
Good Ratings for Cancer Patient Care
First of all, the Swiss public takes an active interest in health care policy. For example, over 80 percent of those surveyed said that they were interested in health care issues. Almost 90 percent viewed the quality of the care provided to cancer patients as either good, very good, or excellent. This positive endorsement was even clearer among those personally affected by cancer, with an approval rating of 95 percent. The personal experiences of those receiving treatment for their disease underline the value of this extraordinarily good rating. The key factors were primarily the good health care system in Switzerland, the broad range of services offered, the good care provided by staff, the quality of the facilities, access to treatment, and the ease of information sharing. Survey respondents rated their hospital experiences particularly highly. Thus, about 80 percent of survey subjects expressed a favorable opinion regarding the care provided by doctors and nurses in hospitals, while a substantial majority were also satisfied with the medications used for treatment. Only a few respondents found fault with the treatments provided or the quality of care. The overwhelming majority (85%) would choose their selected treatment pathway again.
Action Required on Cancer Prevention and Early Diagnosis
However, the survey also clearly shows that some areas require further action. Of all those surveyed, about 15 percent were dissatisfied with early cancer detection, with the same percentage dissatisfied with cancer prevention and coordination. One in five would have been happy to see family members acting as caregivers receive better support. Nearly one quarter of all respondents could also conceive that psychological support for patients and their families could be better. Among those personally impacted by cancer, the number who would have liked earlier information about prevention was as high as 36 percent. About half of them were unhappy about the time of diagnosis. Thus, 47 percent would have been happier if their cancer had been detected earlier. The COVID-19 pandemic also left its mark. For example, treatments constantly needed to be postponed. While almost half of patients were satisfied with the services provided by the specialists treating them, some family members felt that adequate medical care was lacking during the pandemic.
Conversely, the considerable efforts undertaken to research cancer were appreciated by the Swiss public. In the survey, a clear majority of 57 percent had faith in the progress being made in cancer research over the past five years (often, however, without being able to describe this progress in more detail), while only a quarter of those surveyed believed that there had been no or hardly any scientific discoveries recently. Over half of respondents were also optimistic about cancers being completely curable in the future.
Calls for a New Cancer Strategy
Only a few of those surveyed were aware of the "National Anti-Cancer Strategy," including those who were affected by cancer themselves. Having been told about it, most did, however, state that a new national cancer initiative was important to them. Switzerland is currently the only European country without a national cancer strategy. Seventy-two percent of the respondents would participate in any possible consultations about this kind of legal initiative. A new national cancer initiative could count on a high level of approval, especially among women, people with a strong interest in health policy, and those personally affected by cancer. Almost all of those surveyed believed that a cancer initiative could save money in the long term and that early cancer detection and prevention should be supported, but also that coordination between the actors involved and the care provided to those affected by cancer are in need of improvement. However, most respondents did not believe that cancer had any special role in comparison to the many other serious illnesses that affect people. Thus, according to the majority of those surveyed, cancers should not be given any special status in the constitution.
The Survey
The representative survey on cancer patient care in Switzerland was commissioned by MSD and conducted by gfs.bern and involved the detailed questioning of 1,510 randomly selected people throughout Switzerland via an online questionnaire or telephone interview at the end of last year (November/December 2021). Three quarters of subjects reported that a person close to them, or at least an acquaintance, had been or was currently affected by cancer. In total, eleven percent (136 people) had had personal experience with cancer themselves, while three percent were suffering from cancer at the time of the survey. The patients had undergone surgery (76%), or had received chemotherapy (32%), radiation therapy (29%), targeted therapy (18%), hormone therapy (15%), alternative therapy (14%), or immunotherapy (11%). Nine out of ten sufferers reported that they had generally complied with the treatment requirements.
CH-NON-01653, 05/2022