MSD and Trendtage Gesundheit Luzern (Lucerne Health Trend Days) are committed to aiding the further development of the health care system in Switzerland
29.03.2023 08:00 Europe/Zurich
Lucerne, March 29, 2023 – The annual Lucerne Health Trend Days symposium was held across March 22 and 23 at Lucerne's Culture and Convention Center (KKL Luzern). Through this event, the organizing association, Forum Gesundheit Luzern, is creating a national platform to facilitate the exchange of experiences and encourage attendees to form opinions on trends and perspectives in healthcare, and once again welcomed around 600 influencers and decision-makers in the areas of medicine, science, business and politics. This year's event centered on the fascinating topic of "Psycho+Somatic: interactions between body and mind". – MSD also believes it has a responsibility to focus on the health and wellbeing of its patients and employees.
As a leading biopharmaceutical company based in Lucerne, MSD Switzerland (Merck Sharp & Dohme AG) has supported the Lucerne Health Trend Days since 2013. In the words of Jean-Blaise Defago, Director Policy & Communications at MSD in Switzerland: "MSD has supported Lucerne Health Trend Days for many years as a principal partner, and has remained firmly committed to the region throughout its 60-year history in Lucerne. The central location and stable environment have been key in choosing the location of our site. MSD Switzerland would like to continue its tradition in Lucerne, and to that end, will merge three of the five MSD sites in future, bringing 650 jobs under one single address at our new, sustainable urban site in Lucerne's Rösslimatt district."
Gabriele Grom, Executive Director, Public Policy Lead, Mid-Europe Region at MSD, took part in this year's panel discussion on mental health and wellbeing in a fast-paced business environment. The mental health and wellbeing of employees is of the utmost importance at MSD. The objective is to never lose sight of the goal of providing employees with the best possible working environment: one in which they can learn, grow and succeed, but also be given the opportunity to experience an error culture. This is also reflected in the fact that MSD has been awarded the "Top Employer" certification for the 11th consecutive year.
Mens sana in corpore sano
This year's debates and discussions centered around the fascinating topic of interactions between the psyche and the body. For example, the paradigm shift in psychosocial care, similarities and differences between psychosomatics and psychiatry, digital interventions for mental illness and how the brain turns stress into pain were all explored during fascinating expert presentations and roundtable discussions.
4 Questions for Gabriele Grom, mag., Executive Director, Public Policy Lead, Mid-Europe Region at MSD (Merck Sharp & Dohme)
Mental health and wellbeing are central to a company like MSD that focuses on people's health. What does MSD provide as a means to care for its employees' wellbeing?
Gabriele Grom: Our employees' mental health and wellbeing is a top priority at MSD. That's why we offer our staff a range of programmes in different areas.
At the onset of the COVID pandemic, for example, MSD introduced a new policy that gives employees and managers in Switzerland full flexibility over how much and how often they work away from the office (such as working from home and remote working).
We also hold workshops on psychological safety as a way to help create a high-trust working environment.
At MSD Switzerland, all new parents have been able to take 16 weeks of fully paid parental leave since 2020, irrespective of their gender, within the first twelve months after adopting a child or welcoming a newborn.
All our employees worldwide also have free, unlimited access to the Calm app, which offers a wealth of tips and fascinating information about mental health.
"Diversity" and "inclusion" are integral in today's society. How can one imagine this as an outsider?
Gabriele Grom: Increased "employee engagement", improved economic success and greater innovative strength are just a few positive aspects of having a diverse workforce. MSD is actively committed to fostering diversity and inclusion. One of the ways which we're doing this is through our internal networks such as the Women's Network, Next Generation Network, LGBTQI Network and the Network for Employees of African Descent. These initiatives are key milestones on the way toward a better working environment for all MSD employees in Switzerland. and illustrate our company's commitment to diversity, inclusion and wellbeing. MSD was also honored to receive the Swiss LGBTI Label in 2021, a certification awarded to companies and organizations with an open and inclusive culture.
Does MSD also have an "error culture"? How do you deal with setbacks?
Gabriele Grom: Yes, we have and encourage an "error culture" at MSD. As a company, we want to continue to develop in order to improve. This also includes acknowledging mistakes, analyzing them and learning from them. With this in mind, we'd also like to challenge our employees to blaze new trails and find innovative solutions. To motivate employees to share mistakes with others and see them in a positive light, we've created what we call "error awards" in many countries.
How would MSD like to be perceived as a pharmaceutical company?
Gabriele Grom: MSD's Swiss subsidiary, which has its headquarters in Lucerne, is one of the most important MSD sites in Europe. MSD isn't just an innovative biopharmaceutical company; it's also an active partner and committed player in the Swiss healthcare system. MSD Switzerland makes an important contribution to the prevention of and education about diseases, and is also involved in the Health Literacy Alliance and its sponsorship awards, which are awarded every two years. As a member of the Round Table on Antibiotics, the company is committed to incentivizing and providing access to new antibiotic treatments. MSD is a principal partner in various platforms designed to facilitate exchange regarding healthcare policy, including the Lucerne Health Trend Days and Race for Life.
Thank you very much for this interview.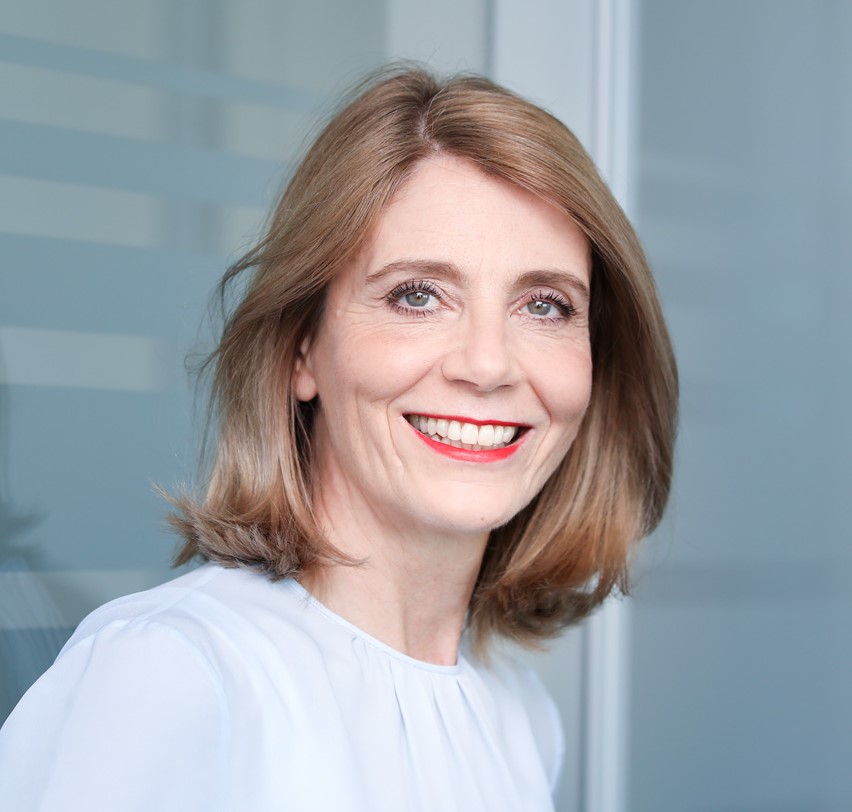 Gabriele Grom, Executive Director, Public Policy Lead Mid-Europe Region at MSD, graduated from the University of Tübingen with a degree in Pharmacy and has worked for MSD for 28 years. Prior to joining the global marketing organization in the United States in 2014, she worked in various marketing and sales positions. After returning from the U.S., she became Managing Director of MSD Hungary and headed MSD Austria from 2009, after which Gabriele became Cluster lead for Central Eastern Europe. She also served as Chair and Vice Chair of the EFPIA (European Federation of Pharmaceutical Industries and Associations) CEE Task Force from 2018 to 2021. In 2016, she was appointed Chair of the Supervisory Board of MSD Germany, and is also an Executive Ambassador for MSD for Mothers on issues regarding diversity and inclusion at both in-house and external events.
As principal partner of the Lucerne Health Trend Days, MSD would like to continue to look ahead at the future challenges and opportunities in the debate and make a sustainable contribution to the further development of the Swiss healthcare system.
About MSD Merck, Sharp & Dohme
At MSD Merck, Sharp & Dohme, known as Merck & Co., Inc., Rahway, NJ, USA in the United States and Canada, we are unified around our purpose: We use the power of leading-edge science to save and improve lives around the world. For more than 130 years, we have brought hope to humanity through the development of important medicines and vaccines. We aspire to be the premier research-intensive biopharmaceutical company in the world – and today, we are at the forefront of research to deliver innovative health solutions that advance the prevention and treatment of diseases in people and animals. We foster a diverse and inclusive global workforce and operate responsibly every day to enable a safe, sustainable and healthy future for all people and communities. For more information, visit www.msd.com and connect with us on Twitter, LinkedIn and YouTube.
MSD Merck, Sharp & Dohme in Switzerland
In Switzerland, MSD Merck, Sharp & Dohme employs around 1,000 people at five sites in the cantons of Lucerne and Zurich. At our site in Zurich, in "The Circle", we operate the newly opened global innovation and development hub. Our main therapeutic areas are oncology, infectious diseases, immunology, and diabetes. We also operate a broad portfolio of vaccines for the prevention of diseases in children, adolescents, and adults. Switzerland is part of MSD's global clinical research program with more than 30 clinical trials annually. At our site in Schachen, we manufacture drugs for global clinical trials and operate a forensic laboratory. MSD also takes local responsibility for the community and has been involved in the "Trendtage Gesundheit Luzern" and the Alliance Health competence. In 2023, MSD received the "Top Employer Switzerland" award for the eleventh time in a row.
For more information, please visit msd.ch, de.msd-animal-health.ch and follow us on Twitter, LinkedIn, Facebook and YouTube.
More information
Weitere Informationen:
Media department MSD Switzerland
Jean-Blaise Defago (Policy & Communications Director)
media.switzerland@msd.com | Tel. 058 618 30 30
Copyright © 2023 Merck & Co., Inc., Rahway, NJ, USA and its affiliates. All rights reserved.
CH-NON-02160