MSD Switzerland appoints Dimitri Gitas as new Managing Director
01.02.2023 08:00 Europe/Zurich
Lucerne, February 1, 2023 – MSD (Merck Sharp & Dohme AG) Switzerland appoints Dimitri Gitas as Managing Director taking over from Ans Heirman who joins Merck & Co in the US to assume a global role.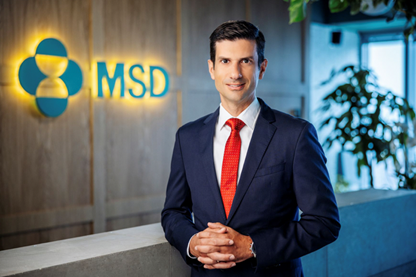 "I am honored and privileged to have the opportunity lead the MSD Switzerland organization. I am looking forward to achieving our strategic ambitions in Switzerland, focusing on continuous innovation across all areas of our business."
Dimitri Gitas – Managing Director, MSD Switzerland
Dimitri Gitas (see picture) has been with MSD since 2004 holding various positions in global, regional, and local commercial roles. Most recently, he was Managing Director of MSD Poland, leading the Polish team to new heights and obtaining a very strong presence in the Polish market. Over the last two years, Dimitri played a strong role in enhancing MSD's position as a leader and preferred partner in healthcare in Poland and was elected to both the Innovative Pharmaceutical Association Board and the Board of Directors of AMCHAM Poland. With his extensive experience he will be driving a strong growth strategy and continue to identify and unlock opportunities for Oncology, vaccines as well as continue the strong momentum in Immunology and the hospital and specialty portfolio in Switzerland.
"I am very excited to join MSD Switzerland and continue to strengthen our position by accelerating our pipeline and providing patients with fast access to modern therapies" explains Dimitri Gitas. In addition to focusing on the growth strategy, the center of attention is on maintaining a strong corporate culture by investing in the success and well-being of employees. "Because our employees are our greatest asset, we empower and support them in their professional and personal lives offering development opportunities and we work to create an environment of mutual respect, inclusion and accountability."
The Leadership Team thanks Ans Heirman for her commitment and wishes her and Dimitri all the best for their future endeavors within MSD.
About MSD Merck, Sharp & Dohme
At MSD Merck, Sharp & Dohme, known as Merck & Co., Inc., Rahway, NJ, USA in the United States and Canada, we are unified around our purpose: We use the power of leading-edge science to save and improve lives around the world. For more than 130 years, we have brought hope to humanity through the development of important medicines and vaccines. We aspire to be the premier research-intensive biopharmaceutical company in the world – and today, we are at the forefront of research to deliver innovative health solutions that advance the prevention and treatment of diseases in people and animals. We foster a diverse and inclusive global workforce and operate responsibly every day to enable a safe, sustainable and healthy future for all people and communities. For more information, visit www.msd.com and connect with us on Twitter, LinkedIn and YouTube.
MSD Merck, Sharp & Dohme in Switzerland
In Switzerland, MSD Merck, Sharp & Dohme employs around 1,000 people at five sites in the cantons of Lucerne and Zurich. At our site in Zurich, in "The Circle", we operate the newly opened global innovation and development hub. Our main therapeutic areas are oncology, infectious diseases, immunology, and diabetes. We also operate a broad portfolio of vaccines for the prevention of diseases in children, adolescents, and adults. Switzerland is part of MSD's global clinical research program with more than 30 clinical trials annually. At our site in Schachen, we manufacture drugs for global clinical trials and operate a forensic laboratory. MSD also takes local responsibility for the community and has been involved in the "Trendtage Gesundheit Luzern" and the Alliance Health competence. In 2023, MSD received the "Top Employer Switzerland" award for the eleventh time in a row.
For more information, please visit msd.ch, de.msd-animal-health.ch and follow us on Twitter, LinkedIn, Facebook and YouTube.
Media department MSD Switzerland
Jean-Blaise Defago (Policy & Communications Director)
media.switzerland@merck.com | Tel. 058 618 30 30
Copyright © 2023 Merck & Co., Inc., Rahway, NJ, USA and its affiliates. All rights reserved.
CH-NON-02071