MSD team joins the Race for Life to raise funds for cancer research and cancer patients in Switzerland
10.09.2023 10:00 Europe/Zurich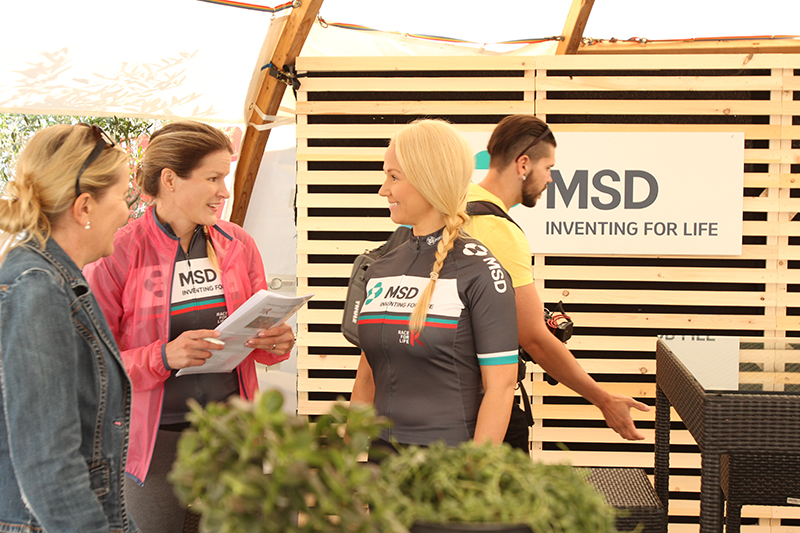 Lucerne, September 10, 2023 – Merck Sharp & Dohme AG (MSD) Switzerland hit the pedals with a will for a good cause once again this year: The pharmaceutical company showed their support for cancer patients and promoted cancer research in Switzerland as a co-sponsor of the charity cycling marathon Race for Life in Bern on September 10. The participation of numerous employees in the event also made a strong statement.
Race for Life 2023: showing commitment for cancer patients in Switzerland
This is the second year in a row that MSD Switzerland has co-sponsored the Race for Life, together with the UCI, the University Cancer Center Inselspital and Just AG. Race for Life was brought to life 13 years ago to collect donations to support cancer patient and foster public awareness of the challenges that they and their families must face. This year, the donations will go to the Swiss Group for Clinical Cancer Research (SAKK), the Swiss Cancer Foundation and the allani Kinderhospiz Bern. After all, the focus of the cycling marathon is not actually the race – instead, it is the joy of life that can at least in part be returned to those affected through our support.
Race participants in the charity cycling marathon can choose to tackle various routes that will allow them to "clock up" donations. There are three different route lengths to choose from: the 5-km Aare-Promenade «Bern-Marzili», with a climb of 96 m, the 17-km Gurten-Bergpreis stretch with a climb of 440 m, and the extremely challenging 31-km Panorama Challenge «Bern-Längenberg» with a climb of 580 m. But there are many other ways to support cancer patients that do not involve cycling, such as being a team patron, donor, volunteer, or participant in the Yoga for Life or Kids4Kids activities.
MSD Switzerland employees getting involved for cancer patients
The fight against cancer is an integral part of everyday working life for MSD Switzerland employees. Race for Life gives these employees a visible way to show their solidarity with patients and their relatives by hitting the pedals. Last year, around 80 MSD employees took part in Race for Life. This year, more than 130 gave up their free time to cycle for a good cause. Participation in this event is voluntary, which highlights the strong sense of social responsibility and commitment among the MSD Switzerland employees.
Cancer patients in Switzerland
Some 45,000 people in Switzerland are diagnosed with cancer each year1. This diagnosis can dramatically change someone's life. It is precisely during these difficult times that those affected, along with their families, social, and professional contacts, are most dependent on support from cancer organizations. But these organizations can only offer appropriate support if they receive adequate funding.
MSD Switzerland supports various cancer organizations in Switzerland by sponsoring and participating in Race for Life to make sure that cancer patients and their loved ones get the help that they so desperately need. Race for Life also offers an important platform for highlighting the challenges that cancer patients and their relatives in Switzerland have to face, even mobilizing support out of solidarity.
"This is the second time that I'm taking part in Race for Life. It is a wonderful opportunity to raise awareness for cancer. I believe that the most important message is that nowadays, cancer can be cured. Thanks to successful research, we have seen steadily increasing numbers of cancer survivors."
Caroline Hobi
MSD Switzerland employee and Race for Life 2023 participant
"Race for Life is an amazing event. It allows me to raise awareness for cancer and spread the message that there is still a lot of research to be done on this disease. By taking part, I'm actively supporting these research projects and allowing patients to access innovative treatment options."
Michael Hüsler
MSD Switzerland employee and Race for Life 2023 participant
"I learned about Race for Life when my employer, MSD Switzerland, first became an event partner in 2022. I was immediately fascinated by the chance to do something good, and combine this with a bit of sport and fun. Participating in Race for Life as a volunteer and cyclist is a matter of personal importance to me, since I have also had to say goodbye to people I love who lost the fight against cancer. By taking part in the 2023 charity cycling tour, I can make a tiny contribution to ensure better support for cancer sufferers and more funding for cancer research. I will also thoroughly enjoy sharing this experience with my colleagues from MSD Switzerland, the scenic cycling routes around Bern, and the other lively and engaging activities making up the Race for Life program. I can't wait for the upcoming event."
Daniela Studer
MSD Switzerland employee and Race for Life 2023 participant
Hitting the pedals together – because every step counts in the fight against cancer
MSD Switzerland is proud to be a part of the valuable community initiative, Race for Life, which supports the lives of cancer patients. MSD employees taking part in this event do so with zeal and dedicate themselves to supporting cancer patients in Switzerland during their free time.
VOLUNTEERING AT MSD SWITZERLAND – WHAT'S IT ALL ABOUT?
Social responsibility is more than just a slogan at MSD Switzerland – it's part of our daily routine. To do our part to make the world a better place, we offer employees up to 40 paid hours annually to take part in volunteering projects.
Working together for a clean environment
Our employees actively take responsibility for their communities. Good examples of our commitment are the Volunteering Days in Lucerne and Zürich, which are jointly organized with IG Saubere Umwelt (IGSU) and Madame Frigo. We invited employees from all five sites to take part in this campaign to rid the streets of Lucerne and Zürich of trash and join the fight against food waste.
Community and learning
Volunteer work not only supports those in need, it also cultivates a sense of community, solidarity, and personal development. At MSD, we offer numerous volunteer programs to allow our employees to gain new skills and expand their competency outside of their professional daily routine.
Effective involvement
Our volunteering campaigns have measurable effects. For example, at Volunteering Days in 2022, we collected more than 45 kg of general waste, 24 kg of glass, 8.3 kg of aluminum, and 3.3 kg of PET bottles. These figures show how important each individual contribution to a clean and sustainable environment can be.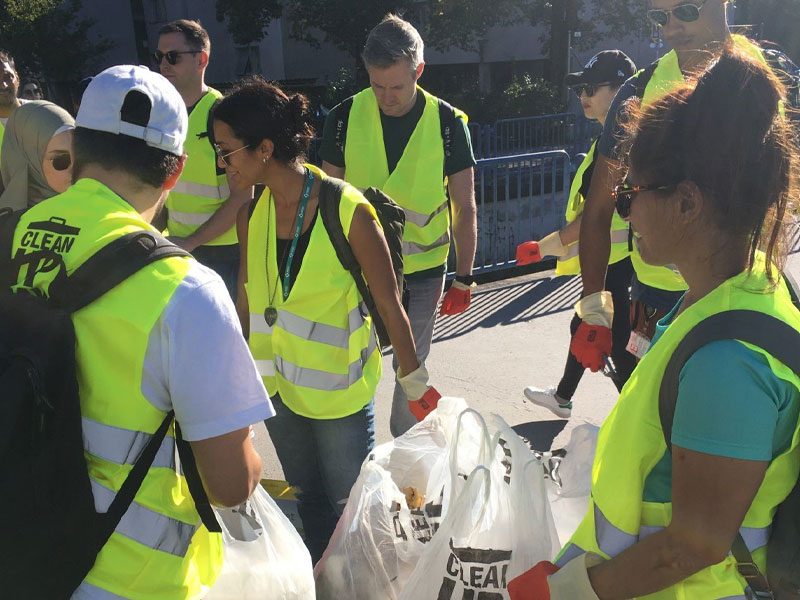 Further information
References
1. Krebsliga Schweiz. Zahlen & Fakten: Die häufigsten Krebsarten in der Schweiz. (= Facts and Figures: The most common cancers in Switzerland) www.krebsliga.ch/ueber-krebs/zahlen-fakten. Last accessed: September 2023.
About Race for Life
Race for Life is a non-profit charity event collecting funds to support cancer patients and their families. The main objective of the event is to increase awareness of the challenges associated with cancer while simultaneously promoting a sense of community and fun through various activities – from cycling to yoga, and even including a children's program. Race for Life 2023 starts at the Bundesplatz in Bern on Sunday, September 10 at 10:00 a.m. Private individuals can also support the event: take part as a cyclist, either on your own or as part of the team, or as a volunteer assistant or sponsor. You can register at raceforlife.ch.
About MSD Merck Sharp & Dohme
At MSD Merck, Sharp & Dohme, known as Merck & Co., Inc., Rahway, NJ, USA in the United States and Canada, we are unified around our purpose: We use the power of leading-edge science to save and improve lives around the world. For more than 130 years, we have brought hope to humanity through the development of important medicines and vaccines. We aspire to be the premier research-intensive biopharmaceutical company in the world – and today, we are at the forefront of research to deliver innovative health solutions that advance the prevention and treatment of diseases in people and animals. We foster a diverse and inclusive global workforce and operate responsibly every day to enable a safe, sustainable and healthy future for all people and communities. For more information, visit www.msd.com and connect with us on Twitter, LinkedIn and YouTube.
MSD Merck Sharp & Dohme in Switzerland
In Switzerland, MSD Merck, Sharp & Dohme employs around 1,000 people at five sites in the cantons of Lucerne and Zurich. At our site in Zurich, in "The Circle", we operate the newly opened global innovation and development hub. Our main therapeutic areas are oncology, infectious diseases, immunology, and diabetes. We also operate a broad portfolio of vaccines for the prevention of diseases in children, adolescents, and adults. Switzerland is part of MSD's global clinical research program with more than 30 clinical trials annually. At our site in Schachen, we manufacture drugs for global clinical trials and operate a forensic laboratory. MSD also takes local responsibility for the community and has been involved in the "Trendtage Gesundheit Luzern" and the Alliance Health competence. In 2023, MSD received the "Top Employer Switzerland" award for the eleventh time in a row.
For more information, please visit msd.ch, de.msd-animal-health.ch and follow us on Twitter, LinkedIn, Facebook and YouTube.
Media Contact MSD Switzerland
Jean-Blaise Defago
Policy & Communications Switzerland
media.switzerland@msd.com I Tel. 058 618 30 30
Copyright © 2023 Merck & Co., Inc., Rahway, NJ, USA and its affiliates. All rights reserved.
CH-NON-02344, 09/2023