Infectious Diseases
Our commitment to HIV treatments and prevention through the years
We continue to work at the forefront of the fight against HIV.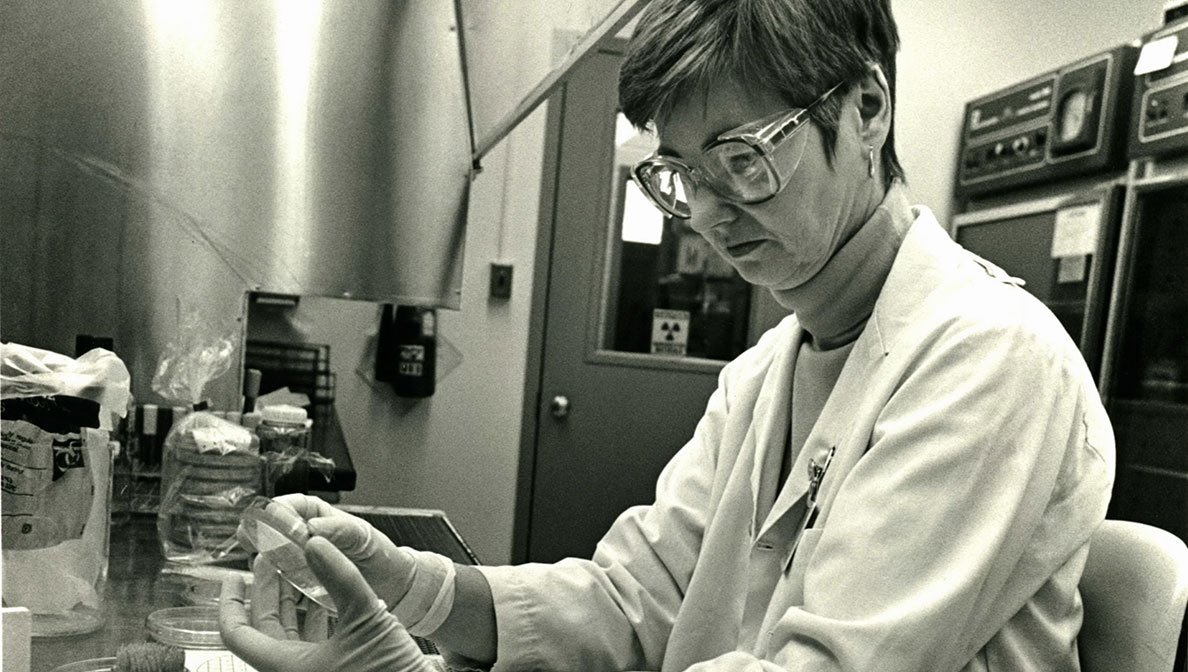 HIV (human immunodeficiency virus) continues to be a major public health threat. The virus can lead to AIDS.
Since 1985, our company has been engaged in research and development (R&D) efforts in the prevention and treatment of HIV. Over the years, our scientists have made significant discoveries that changed the way HIV is treated.
Here are some historical moments highlighting this effort:
In 1982, the U.S. Centers for Disease Control and Prevention first used the term "AIDS," or acquired immune deficiency syndrome, to describe the clinical syndrome caused by the human immunodeficiency virus (HIV). Julie Gerberding, chief patient officer, recalls: "I started my training at the University of California at San Francisco at the very beginning of the AIDS epidemic and took care of the earliest patients there who, in retrospect, we recognize had AIDS. It was a truly frightening disease. There were so many unknowns, including how it was transmitted."

In the mid-1980s, MSD launched its HIV research program in response to what it perceived as a potential epidemic. Our scientists were among the first to discover and develop medicines for the treatment of HIV.

We were the first to publish the crystal structure of HIV protease, which is an enzyme which is essential for virus infectivity.

In 1992, MSD joined other pharmaceutical companies to create the Inter-Company Collaboration for AIDS Drug Development to research HIV treatments. By 1993, we were undertaking the biggest research program in our history, deploying more scientists to investigate AIDS than any other disease and testing tens of thousands of compounds.

The HIV/AIDS community continued to speak out for action. In 1995, Linda Distlerath, former executive director, Public Policy and MSD Research Laboratories Public Affairs, spent time reading letters sent from thousands of AIDS patients and activists urging MSD to produce a treatment for the disease quickly.

After years of study and development, MSD developed one of the first protease inhibitors. In 1995, prior to FDA approval, in conjunction with the U.S. Food and Drug Administration, patients and HIV advocacy groups, MSD offered a program that made its new HIV treatment available at no cost to selective patients before it was commercially available.

In 1996, the HIV treatment received FDA approval in a record-setting 42 days. It was an important early achievement in making HIV a survivable infection.

In 2012, The NAMES Project Foundation – with support from MSD – launched Call My Name national tour to bring attention to the distressing trajectory of the HIV epidemic in the Black communities in the U.S. The tour included creating new panels for the AIDS memorial quilt and educational workshops in 10 high-prevalence cities.

Daria Hazuda, VP, infectious disease discovery and chief scientific officer, MSD Exploratory Science Center has led the team working to identify new ways to attack and treat HIV.

In 2021, we entered into an agreement with Gilead to work together in the global HIV community in the fight against HIV.
CH-NON-01219, 05/2023